———-
NEWS
14th July 2020- WE ARE NOW OFFERING FACE-TO-FACE APPOINTMENTS
Our caseworkers are still working remotely giving advice over the phone. However, we are now offering office appointments in a Covid-secure environment, prioritizing the most vulnerable clients as well as those whose immigration statutes are due for renewal within the next 4 weeks. You may notice a slight delay in us responding to referrals and queries but please rest assured that we will try and contact all referrals as soon as possible. 
Our social activities (homework club, youth club and English courses) are still being delivered remotely. 
23rd March 2020- COVID-19: CHANGES TO THE WAY WE OPERATE
Due to the coronavirus pandemic, we are following the government's advice to avoid contact as much as possible and have decided to suspend all our face to face social activities (homework club and youth club).
We continue to run our casework service, offering advice and support by phone whilst face to face appointments are offered only in cases of extreme vulnerability which can't wait and where telephone advice is not effective. This includes making sure that our clients are fully aware of the government guidance in relation to Covid-19,  connecting them to various mainstream services can provide support or giving emergency grants to those who are destitute.  ENTRAIDE has also joined force with other refugee and migrant support organisations to demand that the government change their hostile environment policies towards migrants to safeguard them during this pandemic. For more information, please visit our dedicated covid-19 response page here. If you able to support our work, please don't hesitate to donate here. 
9th September 2019- HOMEWORK CLUB
The new academic year at the Homework Club has started today, with new branding, new students and a new Teaching Assistant! Thanks to the constant support of the BBC Children in Need, we will also start a new Homework Club in another location in Solihull in the next few weeks..watch this space!
9th September 2019- YOUTH CLUB
Our UASC Project coordinator is finalising the arrangements for the start of a youth club for unaccompanied asylum seeking children and young people aged 15- 25, we will be ready to start very soon and are on the lookout for volunteers who can spare a couple of hours one evening per week, waiting to hear from you!
IMMIGRATION ADVICE
From Tuesday 10th September we will be running a Free Immigration Drop In Service at the Unity Hubb at St Margaret's Church, St Margaret Road, Birmingham B8 2BA from 10am to 12pm. Our staff is accredited to provide immigration advice to the Level 1 of the OISC and can help with visitor, spouse, parent, student, worker visas, Travel Documents for refugees, documents for EU nationals. Feel free to refer somebody who might need help or drop in, no appointment required.
21 October 2016: WEST MIDLANDS TEEN TO UNDERTAKE THE ONE SHOW'S RICKSHAW CHALLENGE
Eighteen year old Salar will be part of Team Rickshaw 2016 for BBC Children in Need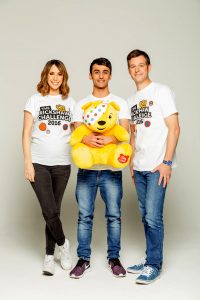 The One Show's Rickshaw Challenge is back, with a new team of riders and route across Britain's East Coast revealed yesterday on the show. This year's team includes 18-year-old Salar, a Syrian refugee who has been selected for the challenge following his involvement with Entraide, a project part funded by BBC Children in Need.
Now in its sixth year, this year's Rickshaw team will cover a 470-mile journey from the Scottish Border town of Jedburgh to central London, all to raise money for BBC Children in Need. Along the way, BBC's The One Show presenter Matt Baker will be on the road cycling alongside the team offering support and advice, whilst Alex Jones will be following their every move, cheering them on, live from studio.
Embarking on Friday 11th November the young riders will work their way down Britain's East Coast in a bid to cross the finish line on Friday 18th November, in time for the BBC Children in Need Appeal Show.
Salar and his family are from a city in Northern Syria, where they enjoyed a comfortable and happy life. He and his siblings were all in school, doing well and with dreams of going to university. Then conflict broke out, claiming the lives of close friends and family. Fighting between opposing forces brought food and water shortages, power outages and violence. Subsequently, the family felt forced to flee, leaving their home behind.
Since arriving in the UK two years ago, Salar and his siblings have been helped by Entraide, a small charity that supports refugees to integrate into UK life. Thanks to funding from BBC Children in Need, the charity can provide a homework club that provides extra education support, and youth activities to help children and young people make new friends.  For Salar, who is still traumatised by his experiences from back home, Entraide has been a lifeline, bringing much-needed positivity and stability back into his life by helping him improve his English and integrate into his community.
Speaking of his involvement Salar said: "I feel lucky to be here, lucky to be alive. Some of my friends and family were not so lucky, and I miss them. It can be really challenging to start over in a new place, but Entraide has given me confidence and hope for the future. I want to give something back, and I really hope to do that on the Rickshaw Challenge."
To date the Challenge has raised more than £12million and in keeping with tradition, the young riders will not only test their pedal power, but also their mettle, as they deliver speeches to a live audience explaining their motivations for taking on the challenge this year. The team hopes their efforts will not only help them raise money, but awareness of the real difference being made to disadvantaged children and young people's lives across the UK thanks to BBC Children in Need.
This year the rickshaw will be pedalled by five other young riders, all of whom have been supported by BBC Children in Need funded projects, and they are:
Ebony (18) from Bournemouth. Aged three, Ebony was diagnosed with Ataxia Telangiectasia (AT), a rare neurological condition that affects her movement and speech, and has left her vulnerable to respiratory infections. The condition is degenerative and there is no cure. Although she doesn't let AT get in the way of living life to the fullest, the uncertainty of her future can sometimes leave her feeling isolated.  BBC Children in Need has funded the AT Society to help change that, giving Ebony and her family the chance to meet others who share their experiences, whilst learning more about the condition.
Andy (18) from Derbyshire. At 13, Andy was diagnosed with acute myeloid leukaemia, an aggressive blood cancer. The sporty teen found himself bedridden, needing blood transfusions, five rounds of chemotherapy and eventually a bone marrow transplant to reduce the chances of the cancer returning.  As a result of the treatments and their side-effects, which included nausea, hair loss and pain, Andy's confidence and physical strength suffered. He credits The Ellen MacArthur Cancer Trust, which has been supported by BBC Children in Need since 2012, with helping him regain his sense of self.
Phoebe (18) from Derbyshire. In August 2013, Phoebe's dad died suddenly and unexpectedly. Her family's life was drastically changed, as they struggled to cope with their loss and adjust to life without dad. Since the accident, Phoebe and her family have received bereavement support from a BBC Children in Need funded counsellor at Treetops Hospice Trust and are slowly coming to terms with their grief.
Ross (18) from Sunderland. Mixed aggressive epilepsy can causes Ross to collapse multiple times a day. As a result, he wears a helmet to protect his head from injury. The condition limits his freedom, as he is under constant supervision, but at Bluewatch Youth Centre Ross can be himself without fear. The group gave him the courage to get out and do the things he loves; that includes cycling, and he can't wait to show off his skills on this year's Rickshaw Challenge. When he is cycling, his increased concentration makes it unlikely that he will have a seizure, making it safe for him to ride the rickshaw. Thanks to fundraisers across the UK, BBC Children in Need has been able to support Bluewatch since 2006.
Olivia (17) from Edinburgh. Olivia is profoundly deaf, but she received a cochlear implant at the age of two, and is an active part of both the hearing and deaf communities. Throughout her life, she's felt that people have either made assumptions about her intelligence because of her deafness, or not recognised that she sometimes has additional needs. Attending BBC Children in Need funded Deaf Action has broadened her horizons and she now enjoys many of the same opportunities as her hearing peers. Today, she helps to mentor deaf youngsters coping with issues of bullying and exclusion.
Speaking of this year's challenge Matt Baker said:  "Every year I am inspired by the incredible young people who take on the Rickshaw Challenge, and this year is no different. The six young riders in Team Rickshaw have faced major challenges in their lives already, but thanks to the Charity they have been able to overcome so much; and now they feel ready to give back. We hope that the public will rally behind them to help raise more money for BBC Children in Need. It really does make such a difference."
Alex Jones added: "If I could give Team Rickshaw one piece of advice it would be to make the most of this remarkable experience. It won't be an easy journey, but the difference that the fundraising makes to other young lives will be completely worth it. Last year we were amazed by the outpouring of support from people across the UK who gave to the challenge. We hope everyone will get behind these inspiring youngsters once more and push the team on to another successful year!"
Since 2011, The One Show Rickshaw Challenge has raised funds for BBC Children in Need, with each and every penny going on to support disadvantaged children and young people right here in the UK. The One Show viewers will be able to follow Team Rickshaw's progress on the show each day, but the full route – including a real-time update of the rickshaw's progress – is also available at http://pudsey.viewranger.com/.
19 October 2016 :Entraide's Chair and Founder wins a Solihull Civil Honours Award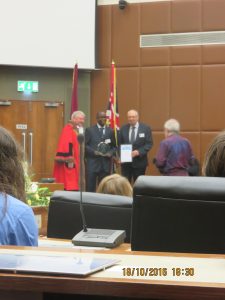 Our Chair and Founder Felix Kupay has been awarded the Community Involvement Award in the Solihull Civic Honours 2016. The award was presented during a ceremony hosted by Solihull Mayor, Cllr Mark Robinson in the Civic Suite at the Council House.
Presenting the award  on behalf of the Sponsor (The St. Johns Hotel), Dave Pinwell, CEO of Solihull Sustain explained that since its inception in 2010, ENTRAIDE has transformed the lives of hundreds of refugees in Solihull and the surrounding area. We are all delighted for this recognition. For more information on the award, please click here